Have you ever asked yourself why you've been put on this earth for? What is God's plan for me?

Surely, you have a purpose.

Ephesians 2:10 says that "we are God's handiwork, created in Christ Jesus to do good works, which God prepared in advance for us to do."

This means God has prepared a specific calling for your life to fulfill his purpose and move his kingdom forward.

Yet to this day, many people are still struggling to find their purpose and don't know what to do.

So In this article, I am going to cover exactly:

Why is it important to fulfill your calling?
How to find your life purpose (God's plan for your life)
How to fulfill your calling (simple instructions)

Let's get into it!
Why is it important to fulfill God's plan for your life?

Sometimes I talk to Christians who say things like:

"Why are you trying so hard? Don't you know that you're still saved by grace through faith no matter what you do?"
They may even try to describe heaven as a place where everyone will be equal in their glory and possessions since we are all God's children.
So if that's the case, why should I even try to fulfill God's plan for my life?
But consider this:

If God is truly just, would he really give the same reward to the Christian who has given his whole life to serving Him as to the Christian who spent their whole life living for themselves?
No, of course not.
Heaven is not a socialist economy. There are different levels in heaven and different rewards that Christians will receive based on how faithful they were with what they were given.
But don't take my word for it, here's what the Bible says:

Jesus said he is coming with His reward and will repay each one according to their works. (Revelation 22:12)
Jesus said those that leave possessions or family for His name's sake will receive a hundredfold (Matthew 19:29)
Jesus tells us to lay up our treasures in heaven (So there's a treasure to be built up?) Matthew 6:19-21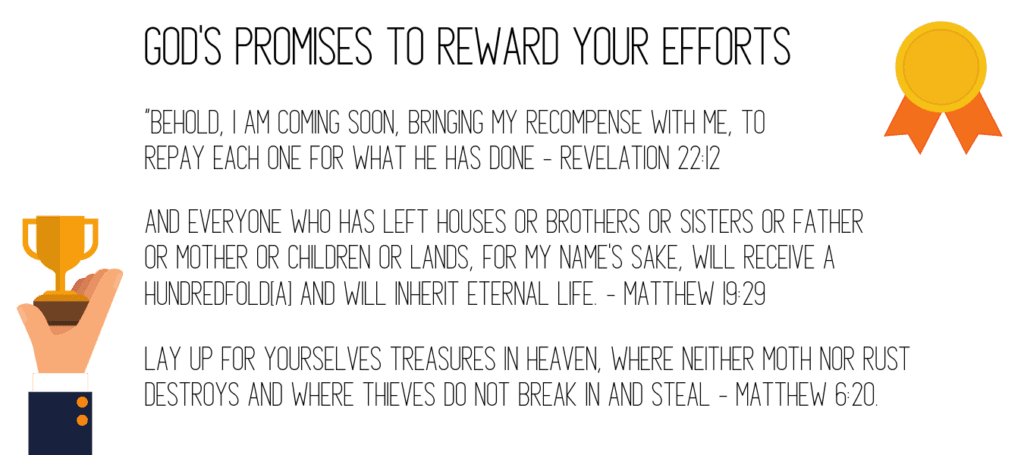 But wait… there's more!

"But many who are first will be last, and the last first" (Matthew 19:30)

Jesus is saying that those who put themselves first in this life will be last in the kingdom of God. These are the ones that spend their entire life living for themselves, avoiding God's will for their life, and simply "waiting" for heaven.

Those who are faithful in their calling will be placed to rule over much more than they had on earth and be rewarded way beyond anything they could ever imagine.

And here's the crazy part:

Everything we do on earth is so temporary, yet it impacts the way we're going to live our eternal lives forever.

How to know god's plan for your life

First things first…

How serious are you about fulfilling God's plan for your life? Are you willing to deny yourself, pick up your cross, and follow Him?

Your level of commitment is the same level that God is going to use you in.

It doesn't necessarily mean you have to sell everything you own, buy a one-way ticket to Africa, and live the rest of your life serving orphans (although it can be).

Here's what I mean:

Surrendering your life to Christ is a position of the heart where you are willing to set aside your desires, your goals, and your dreams for God at any moment in order to do what he wants.

It's about having a mindset that everything you own is His and you are just the one who is entrusted to steward what's been given to you.


How can you know what your calling is?

In Matthew 10:5 it says that Jesus sent out his disciples and gave them instruction on what to do (Preach the Gospel, Heal the sick, etc.)

I want you to notice something very important about this:

Jesus was the one that sent out the disciples and also the one who gave the instructions. That was how the disciples knew what they were supposed to do.

It was Jesus who revealed his plan to the disciples.

Another thing:

When did God send out the disciple and give instructions about what to do?

It was only after they began to follow Jesus, learn from him, and spend time with him.

In other words:

After they spent time with Jesus, He told them exactly what they needed to do.

That's where it all starts for us too.

Spending Alone Time With God

How can you possibly know God's will for your life if you have no relationship with Him? How can he tell you what His plans are if you never come to spend time with Him?

Without a personal relationship with God, you will fail in your pursuit of trying to fulfill your calling.

Why?

You burn out trying to do the works with your own strength and understanding.
You follow a path that you think is right, but has nothing to do with His calling on your life because you have a hard time discerning God's will
You might harden your heart towards God when something begins to fall apart because you don't understand who He is.
Before you do anything, God wants you to know Him first.

After all, this was the first commandment that Jesus gave us:

"You shall love the Lord your God with all your heart and with all your soul and with all your mind." (Matthew 22:37)

It is only when you love God, that you are able to trust Him to work through you and bring Jesus the glory He deserves.

As you do His work, it no longer becomes just something you check off your list, but everything you do will be out of your love for Him.

The bottom line is this:
When you spend time alone with God to know Him (not just ask for stuff), He will begin to reveal His plans to you and teach you everything you need to fulfill His plan for your life just like he did with the 12 disciples.

That's how it all started for me.

When I first tasted God's goodness I began to seek him to know him more every day. I was never after ministry or a position in the church. All I wanted was more of Him.

After about one year of seeking him, He began to bring me into things I never even asked for.

People started approaching me and asking me to preach. Eventually, others asked me to be a part of their ministry. Pretty soon, I had my hand's full in teaching teens class, preaching, missionary work, prayer, evangelism, and so much more.

As I begin to do the things God asked of me, I started to see the areas God was highlighting as a part of his calling for my life.

However, it didn't happen all at once.

There was a process that needed to take place in my life first.


How to get started fulfilling God's purpose for your life

Maybe you came to this post thinking that after reading this, you'll finally step into that position of being a preacher, pastor, missionary, or whatever.

So You may not like me for what I'm about to tell you next, but it's the truth.

Here it is:

God has already given you something to do that will help you discover your calling.

Yes, I said it. Discover your calling.

In most cases, you're not going to know the calling God has on your life until you start on what He's already given you.

Look around you. Your life is full of opportunities to serve God.

God has placed people and circumstances in your life that are there to move you further into what He wants you to do.

Here's what I mean:

The atheist at your school who just lost a loved one
Your pastor asks you to Vacuum the church
One of the Sunday school teachers needs an assistant
You're asked to stay a little longer after church to stack chairs
Someone asks you to share your testimony at a youth service

The list goes on and on…

A Very Important Lesson

When I first started to serve, I felt like I was doing nothing.

By nothing, I mean it felt like it had no impact whatsoever, was of little importance, and wasn't what I expected at all.

In fact, most of what God was asking me to do was actually the things I had the least Experience in and had practically no desire to do.

I could not possibly understand why and often questioned God's plan for me.

It was only when God spoke to me, that He totally changed my perspective about it.

Here's what I mean:

Imagine you're a teenager who is looking for his first real job.

You come across a construction company that has over 5000 employees and they're one of the top companies in your state.

You have no experience whatsoever and you don't know anything about construction, let alone how to swing a hammer.

You're a bold guy, so you come up to the boss of the company and ask him to hire you as a project manager overlooking a crew of about 20 people.

So he tells you:

No way. Even if I wanted to, you'd never be able to handle the work or the people because you have no experience. However, I can offer you a position cleaning up debris for $11 an hour.

You get upset, tell him he doesn't know what he's talking about, and walk out the door to look for another opportunity to be the boss.

Sounds ridiculous right?

Yet, sometimes we expect God to do the same for us in his kingdom.

We want more, without first being faithful in less.

Jesus said "One who is faithful in a very little is also faithful in much" (Luke 16:10)

and…

"Anyone who wants to be first must be the very last, and the servant of all." (Mark 9:35)


Doing the little things that God has given you is the fastest way to mature as a Christian, build your character, and find your calling.

There's no way around it.

Start right where you are with what you can see.

As you begin to serve in the little things, God will begin to teach you and equip you with everything you need to be able to fulfill His ultimate plan for your life.

Eventually, He'll put you in charge of bigger and bigger tasks. Soon you'll look around and find yourself in places you'd never expect to be.

It's simple right? Yet, sometimes the simplicity of this gets pushed away by so many people because it's not what they expected or wanted to hear.
In Conclusion

God has a purpose for your life that is better than anything this world can ever offer. He's given you gifts and abilities to complete his purpose, but until you surrender your life to Him completely, you'll never be able to do it.

As you spend time with God and be faithful in the little things He has already given you to do, God will begin to reveal to you His plans for your life. He will put you in the places you need to be and teach you how to do the work.

Now I want to hear from you:

What will you start on in order to be faithful in little?

How has your relationship with God impacted the way you serve?