Have you ever wondered what it means to live out your new identity in Christ?
Many believers go their whole life without fully understanding who God has created them to be and everything that He has given them through the finished work of the cross.
As a result, they live in a constant struggle with their sins and fail to live out the life that God has created them for to the fullest extent.
When you truly understand your identity in Christ, you live out the purpose that God has created you for in victory and freedom.
If you're looking for an in-depth understanding of what your identity in Christ is and how to live it out, this guide is for you.
In this post I'm going to cover:
Why it's important to know your identity in Jesus
What is your identity in Christ?
How to practically live out your new identity
And more…
Let's dive in.


Why is it important to know your identity in christ?
The reason why it's important to know your identity in Christ is because you ultimately live out your life by what you think and believe about yourself in the mind. God wants to change the way you think about yourself to match your new nature so that you can make different decisions and live out the life of Christ.
Let me explain:
When you look at yourself… what do you see?
Do you see a sinner or do you see someone who is righteous?
Do you see someone who is worthy or unworthy?
Do you see someone who is bold or someone who is timid?
The answer to these questions all comes down to where you are looking and who or what you identify with.
Most of our identity has been formed by what we think of ourselves based on how we feel, our experiences in life, and what people said about us.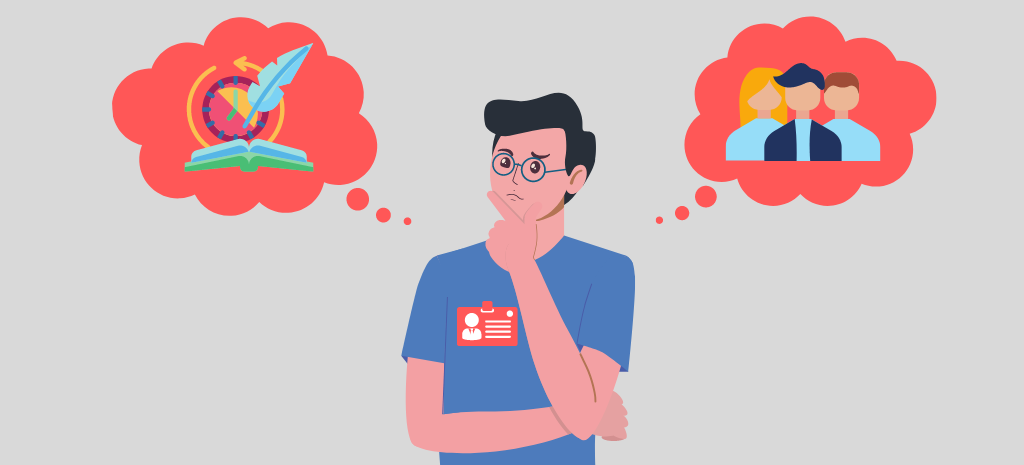 This type of identity was never part of God's plan or purpose for your life, but something that was the result of the fall of man in the Garden of Eden.
Before Adam ate from the tree of knowledge of good and evil, his identity was completely defined by who God said he was.
The first thing that happened when Adam ate from the tree of knowledge of good and evil was that his eyes were opened and he saw himself naked for the first time.
In other words:
Adam became self-conscious of his new sinful nature and started defining his identity by what he saw and did instead of what God said about him.
However, that all changed when the second Adam (Jesus) came into the picture.


What is your identity in Christ?
As a born-again believer, your identity in Christ is the very life and nature of Jesus living inside of you. It's understanding that who you are as a person isn't dependent on anything you've done, but on who Christ is in you and what He did on the cross.
Let me explain:
When you were saved, God didn't just change you into a better person.
He put to death your old sinful nature on the cross, washed away your sins with His blood for all time, and came to live inside of you. (Romans 6:6, Hebrews 10:12)
In order to fully grasp this, you need to understand how you were first created.
1 Thessalonians 5:23 says: "Now may the God of peace himself sanctify you completely, and may your whole spirit and soul and body be kept blameless at the coming of our Lord Jesus Christ."
You were created with a spirit, a soul, and a body.
The moment you received Christ, your Spirit became one with God's Spirit and you became a new creation (1 Corinthians 6:17)

Although your spirit has been made perfect, God still wants to transform your mind, will, and emotions (soul) so that Jesus can live out His life through your body.
And that's the hardest part…
Why?
From the day you were born into the world, your thinking and decision-making has been shaped by the wisdom of the world and the ways of man.
In other words:
There are still a lot of wrong beliefs and thought patterns that have been embedded in you that don't line up with how He thinks and how He sees you.
That's why Romans 12:2 says: "And do not be conformed to this world, but be transformed by the renewing of your mind, so that you may prove what the will of God is, that which is good and acceptable and perfect."
The moment God begins to change the way you think about who He is, who you are, and how you see the world around you is the moment you start to live out a different life.
Think about this:
Your actions are ultimately driven by how you think and what you believe. Therefore, if you believe a lie about who you are and how God sees you, you will live out that lie.
God says in Hosea 4:6 that "My people are destroyed for lack of knowledge;"
The reason why many Christians still live out a life of sin isn't because they aren't trying to be righteous. The truth is many try very hard and are still living in bondage.
Why?
They don't truly understand what Jesus has done for them on the cross and so they still see themselves as a sinner instead of seeing their righteousness in Christ.
They allow their old self to define their identity instead of seeing who Christ is inside of them.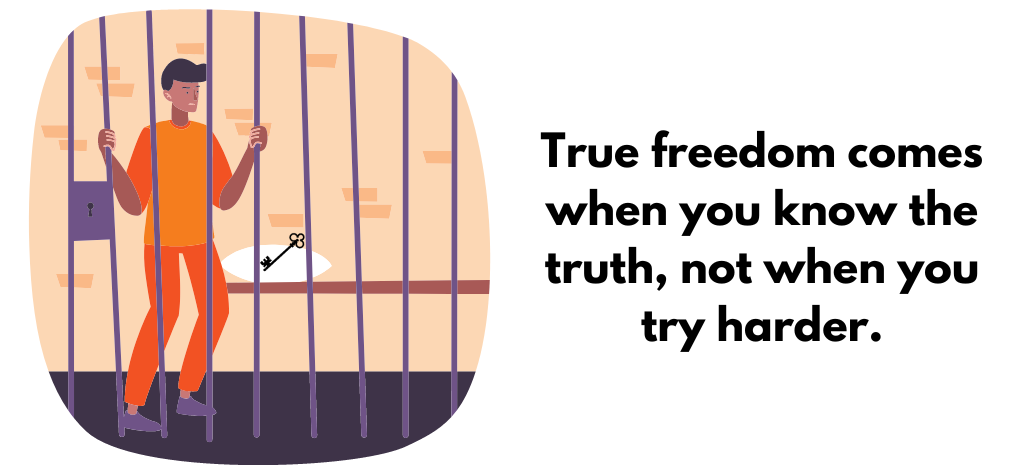 Here's the truth:
Living out the life of Christ isn't about doing more to improve yourself to be like Him.
It's about knowing who Christ is inside you, and as a result, you yield to Him so He can live out His life.
I always like to explain it to my teens class in this way:
"We don't do to be. We are so we do."
Here's a good example:
Have you ever looked at a verse in the Bible and thought to yourself:
"What can I do to be more like that?"
Matthew 5:48 says "You therefore must be perfect, as your heavenly Father is perfect."
or…
"but like the Holy One who called you, be holy yourselves also in all your behavior;" (1 Peter 1:15)
The problem is that we take these verses and turn them into something we have to do.
These verses don't say "try to live a life that is perfect or Holy and hopefully, you measure up."
If you were to try to be as perfect or holy as the Father, you would automatically fail. Your righteous deeds could never live up to His standard of perfection and holiness.
You either are perfect or you're not…there is no in-between.
The good news is that because Jesus lives inside of you, there's nothing more you have to do to be perfect or holy like the Father except become aware of who He is inside of you.
Jesus is already perfect and holy just like the Father. Therefore, you are already perfect and holy if you've received Christ into your heart.
The word "being" simply means to exist… it's who you are; It's your new nature.
Just as if someone told me that I needed to be Ukrainian, just as my father was Ukrainian.
It's who I am and therefore I do things that Ukrainians do. I don't have to try to live out Ukrainian culture, it just comes out naturally in my lifestyle and words.
So it is with your new identity in Christ when you truly know who you are.


How God Sees Your New Identity in Christ Jesus
Imagine for a moment that you are in a courtroom standing on trial before God the Father.
On the left side of the court, you have the enemy standing there accusing you for all the choices you've made that day.
He's accusing you of not being good enough, he's accusing you of being a sinner, he's accusing you of not being faithful to God…and the list goes on.
However, there is another in that courtroom with you and that man is Jesus.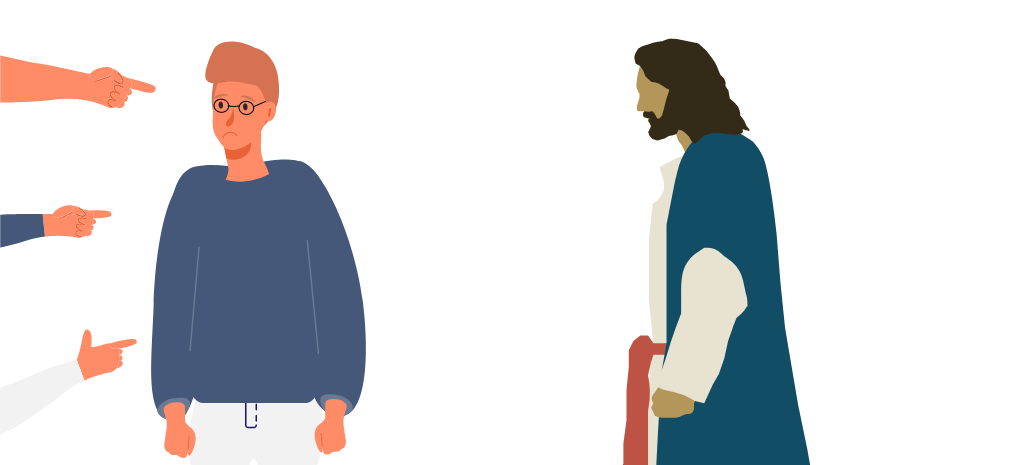 Jesus is standing before the father as your mediator and as your defender. He is standing as the one who has fulfilled the law perfectly and was faithful to the end in everything. Not one blemish or mistake.
As the Father looks at you and looks at Jesus, He sees that you have become one with Christ. You in Him and He in you.
You've been joined together by one Spirit (1 corinthians 6:17) and He sees your new nature.
The verdict for all of the enemy's accusations?
NOT GUILTY.
Why?
Everything that Christ has done on the cross gets attributed to you free of charge.
In Christ, the Father sees you as righteous, spotless, holy, blameless, and so on.
Although the enemy has nothing of which He can condemn you with to the Father, his goal is to try to get you to take on another identity by having you judge yourself based on what you see, what you did, and how you feel (Self-consciousness)
If he can get you to take a look at yourself outside of Christ, He can get you to start believing his accusations and rethinking your true identity.
When you believe his accusations, you start to live out the lies of the enemy and get stuck in a cycle of sin.
The reality is that if you look at yourself outside of who Christ is in you, you will always fall short and there will always be ground for the enemy to accuse you.
However, Consider what Paul says in Galatians 2:20:
"I have been crucified with Christ. It is no longer I who live, but Christ who lives in me. And the life I now live in the flesh I live by faith in the Son of God, who loved me and gave himself for me."
And in 1 Corinthians 4:2-3:
2 Now it is required that those who have been given a trust must prove faithful. 3 I care very little if I am judged by you or by any human court; indeed, I do not even judge myself.
Now ask yourself this:
If it's no longer I who live, but Christ who lives in me, why would I still identify with my old self?
Why would I ever identify as a sinner when Christ is righteous in me?
Why does Paul say that He doesn't even judge himself in regards to being faithful?
As a born-again believer, Christ is perfect inside of you regardless of what is going on around you.
Regardless of what you said, what you did, or how you feel, your identity in Christ doesn't change.
He is unchanging inside of you (Hebrews 13:8).


How To Practically Live Out Your Identity in Jesus
Everyone is always looking for some sort of 5-step process or checklist on what they can do to be more like Jesus.
But that's not how it works in the kingdom.
Jesus said "you will know the truth, and the truth will set you free" (John 8:32)
So in this section, I'm going to share some practical truths that will shine the light on what it actually looks like to live out your identity in Christ.
As a result of knowing the truth (who is Jesus), I believe you will begin to walk out a life of freedom.
Here's what you need to know:
As you go about your day-to-day life and accusations come your way, all you have to do is consider who you are in Christ and present yourself to Him to do what He wants to do through your life.
For example, let's say you messed up and fell into sin for the third time in a week by watching pornography.
You could look at yourself and start pouting about how you feel for doing it again, get frustrated about it, and start thinking of yourself as a sinner who just can't get free.
Or you can think about what Romans 6 says about you:

You've been crucified with Christ (Romans 6:6)
You have died with Christ (Romans 6:8)
You have been set free from sin (Romans 6:7)
Notice that all those verses are past tense. You are not being crucified, you are not being set free from sin, and you are not dying with Christ.
You have. The work is finished.
Paul says to consider yourself dead to sin, but alive to God. (Romans 6:11)
In other words:
Just think about it!
Think about what Christ has accomplished on the cross, think about who He is inside of you, and agree with the truth of what the Bible says instead of how you feel.
Imagine praying like this after you mess up:
"Jesus I thank you that my mistakes don't define who I am in you. Thank you that you have set me free from the power of sin and that I am the righteousness of God in Christ Jesus"
Instead of:
"God forgive me, I'm such a sinner. Please help me get free from my sin and help me stop doing this. I'm so wretched Lord, Cleanse me!"

Notice the difference in the prayer:
One is all about me, me, me, and my sin. (AKA your old identity in the flesh)
And the other is all about who Christ is inside of you and your righteousness in Him.
See, It's not about what you did, but what He's done for you that changes everything.
At this point you might be thinking:
"But Val… how is this going to help me not fall into sin next time?"
Since the work of the cross is finished and you're already dead to sin, all that God wants is for you to intimately know who He is and to present yourself to Him.
It all starts with simply having a relationship with Jesus where you learn to seek Him, become captivated by His beauty, and fall in love with who He is.
As a result, you start to trust Him enough to yield to Him in every part of your life and He begins to live out His life through you.
Here's what I mean:
2 Corinthians 3:18 says "But we all, with unveiled face, beholding as in a mirror the glory of the Lord, are being transformed into the same image from glory to glory, just as from the Lord, the Spirit."
As we behold the glory of the Lord, we are transformed into His image.
But we don't just behold the glory of the Lord as somewhere in the heavens…
"We behold him as in a mirror"
What do you see when you look into a mirror?

You see yourself, but more importantly:
Christ in you the hope of Glory.
The transformation comes when you begin to behold or see the beauty of Jesus inside of you.
As God begans to transform you into the image of Christ, you learn to trust Him by yeilding to Him in the decisions you make in your life.
Romans 6:13 says:
"Do not present your members to sin as instruments for unrighteousness, but present yourselves to God as those who have been brought from death to life, and your members to God as instruments for righteousness."
And Romans 6:16:
Do you not know that if you present yourselves to anyone as obedient slaves, you are slaves of the one whom you obey, either of sin, which leads to death, or of obedience, which leads to righteousness?
The point is:
Whatever you present yourself to, is what you become obedient to.
What does it mean to present yourself?
The word "present" in Greek is the word "Paristemi" which means to stand beside or to become available.

In other words, stand beside God and just be open.
Presenting yourself is like saying:
"Lord, here is my body…live out the life that you want to live"
It can't be that easy, can it?
First of all, you cannot present yourself to someone you do not trust. You cannot fully trust someone that you don't really know.
Presenting yourself takes real trust because it sounds kind of crazy.
Basically, when you present yourself to God, you are trusting God to do all the work through you without you trying to do anything.

In order for your to present your body to the Lord, you have to stop trying to fix yourself.
Wait what..?
Yes, you heard me right.
Stop trying to fix yourself by putting demands on your body to live free from sin. Stop trying to be holy by doing more stuff.
Just stop it.
I've heard many guys tell me:
"I've tried everything and no matter how hard I try, I still keep falling back into sin"
Well…Have you ever tried not trying?
The very thing you think is going to help set you free from your sin is actually the very thing that is keeping you in bondage – You trying to improve your flesh by telling it to obey God's law.
Now before you pick up rocks to stone me, let me make myself clear:
I am NOT telling you it's okay for you to go live in sin freely and forget about your addictions.
I'm telling you there's a better way for you to receive freedom from sin.
His way.
Let me explain.
Romans 8:10-11 says:
"But if Christ is in you, although the body is dead because of sin, the Spirit is life because of righteousness. If the Spirit of him who raised Jesus from the dead dwells in you, he who raised Christ Jesus from the dead will also give life to your mortal bodies through his Spirit who dwells in you."
Since your body is dead because of sin, you actually have no ability to live out a life of holiness and righteousness on your own.
Every time you try to get free from your sin by putting a demand on yourself to stop, what you're actually doing is trying to obey the law by presenting yourself to the flesh.
How?
You are relying upon and trusting that your body is able to carry out the works of the law by your own effort.
This is the very thing that Paul said was the cause of your sinful lifestyle.
​​For while we were in the flesh, the sinful passions, which were aroused by the Law, were at work in the members of our body to bear fruit for death. (Romans 7:5)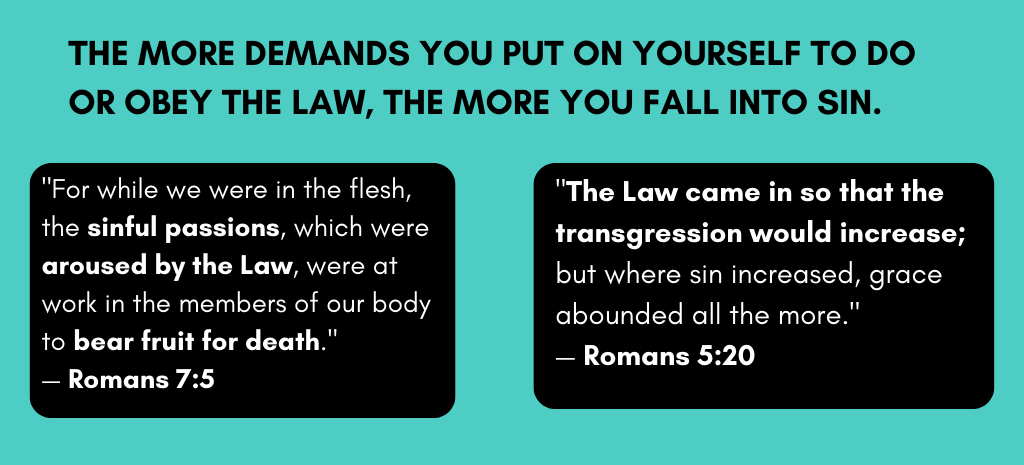 You say:
"Flesh I've had enough of falling into this sin…You need to stop doing that"
The problem is that the only thing your flesh knows how to do is sin. That's the nature of the flesh.
So what happens?
You present yourself to the flesh for obedience and the flesh does it's work.
The result is that you fall into sin over and over again.
It's a vicious cycle.
It's kind of like continuously asking a thief to watch your stuff while you use the restroom.
At some point, you're gonna get robbed.
Even God didn't try to improve your flesh, but had to put it to death by nailing it to the cross. (Galations 5:24)
He put your flesh to death so that His Holy Spirit can give life to your body and enable you to live out Holiness. (Romans 8:11)
This is the ONLY way it's possible to live out holiness in Christ consistently.
What must we do to do the works of God?
Believe in the one whom He sent. (John 6:29)
It's by simply having faith and believing that He will live out His life through you instead of trying to do it yourself.
Now, Here's a summary of this entire article in 3 short paragraphs.
Living out your identity in Christ starts with seeking God to know who He is through a personal relationship with Him. As you come to know Him, you also learn who you are in Him and who He is in you since Christ is your new identity.
When you know the truth of who Christ is inside of you, God sets your free from your old ways of thinking and seeing yourself to match how He sees you.
As a result, you begin to live a life of faith in the son of God, trusting that He will do His works through you, transform you, and enable you to live out a life of Holiness without you even trying.
You stop looking to yourself, your experiences, and your past mistakes to define who you are and you start to rely on the unshakeable nature of Christ in you to define you.
That's how you live out a life of victory and freedom in this life.
Now I want to hear from you:
How has God changed the way you see yourself and how has that changed the way you live your life?
Let me know in the comments below!