Have you ever felt a burning desire to know God more?
Maybe you've been going through the motions of Christianity and you're thinking:
There's got to be more!
Or you've already been spending time in the secret place with God, but it feels like nothing is happening.
If so, this ultimate guide is for you.
In this post I cover:
Let's dive in!


Why Is It Important To Spend Time In The Secret Place With God?

Growing up in a Christian home, I used to think of God as someone you come to if you need help with something or because it's what good Christians do.
It was only when I encountered Jesus that my life was completely transformed and a hunger to know God arose in me.

I realized that seeking God is so much more than just asking for stuff or trying to do the right thing.

It's about knowing Him personally, falling in love with who He is, and living every day with Him.

The bible says that in His presence is fullness of Joy and at His right hand are pleasures forevermore (Psalm 16:11).



Everything you've been looking for and longing for is found in God himself.

When you begin to spend time in His presence, it will satisfy the deepest desires of your heart and you will see that all the things you thought you needed to be happy were a lie.

To know the depths of His love, to see His glory, and to know His goodness is the greatest joy in this life.

And you know what's the best part?

God wants to encounter you and show you who He is more than you want to know Him. He is waiting for you to come to him and seek him.

And it all starts in the secret place…


How To Enter Into The Presence of God
So often it seems like we have to jump through a bunch of hoops just to get into God's presence.
Maybe you feel like you need the worship team to be playing a certain song, pray a certain prayer, or be sin-free that day in order to come into His presence.
But it's not like that at all.
It's actually quite simple.
I love how Eric Gilmore put it:
Entering God's presence is as simple as entering a swimming pool.
You simply turn your attention towards the pool.
You step in knowing that you will touch the water.


In order to enter God's presence, all you have to do is give Him your fullest attention and believe with a child-like faith that you will encounter Him.
How do you do that?

By fixing your eyes completely on the Lord and centering every thought on Him alone.

Here's a good explanation of this from Eric Gilmore: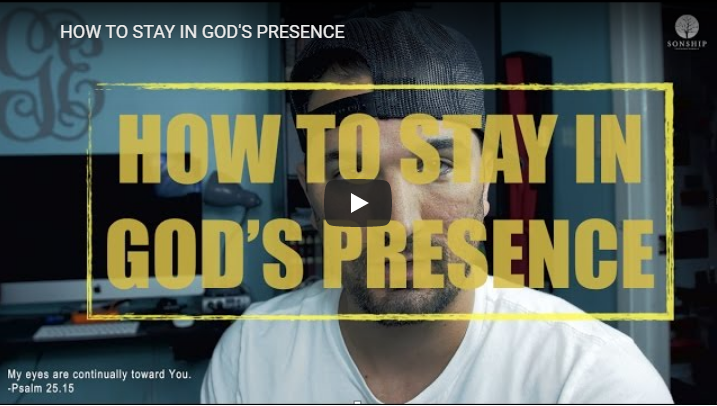 As you begin to keep your attention on the Lord, you will eventually begin to encounter His presence and hear His voice.
3 Things That Can Hinder You From Encountering God
Before you enter the Secret place, the enemy already has a plan to stop you or keep you away from God for as long as possible.

You need to be aware of this so that when it happens, you can stand on the truth.
Here are the 3 things that can hinder you from encountering God:
1. Distracting thoughts
If you've ever spent time with the Lord by yourself, you know what I'm talking about.
The moment you step into your secret place, your mind is flooded with everything you forgot to do, the latest score of the football game, and so much more.
These thoughts will steal your attention and prevent you from spending quality time with the Lord if you don't take care of it.


No matter what comes to mind, set it aside and fix your eyes on the Lord again. Do not get discouraged when it happens over and over. Just refocus your attention on Him and over time it will become much easier if you continue to persist. (James 4:7)
2. Shame, guilt, & condemnation
Have you ever felt like you weren't good enough to come before God because of something you've done?
Shame, guilt, and condemnation is one of the most powerful weapons the enemy uses to keep Christians from coming to God.
This is why it is so important to come to the Lord with an understanding of the righteousness you have before Him.
Here's what I mean:
John 8:32 says that "you will know the truth and the truth will set you free."
The truth is that Jesus died on the cross to be with you because He loves you.
When you accepted Jesus Christ into your life, He washed away your sins and gave you His righteousness. (Philippians 3:9).
Hebrews 4:16 tells us to draw near to God's throne with confidence, that we may receive mercy and find grace in a time of need. (Paraphrased)

As a result, You are able to enter into God's presence anytime with confidence because the Father sees you through the eyes of His perfect son, Jesus Christ (not based on how good or bad you've been).
Side Note: If this is something that has been hindering you from entering into God's presence, I highly recommend reading this article on your righteousness in Christ.
Every time the enemy tries to condemn me for something I did, I proclaim and meditate on the truth:
"Jesus thank you that there is no condemnation for those who are in Christ Jesus" (Romans 8:1)
When I do, I'm reminded of what Jesus did for me and the righteousness I have in Him.
3. Lack of faith in His goodness
The bible says that it is impossible to please God without faith (Hebrews 11:6).

Sometimes people are hesitant to spend time with the Lord because they lack faith in his love and goodness towards them.
For example:
You feel like you need to do something to gain his approval to be with Him
You think He's mad at you because you haven't spent time with Him for 2 weeks already
It always comes down to a feeling or thought that the enemy has placed into your mind as to why God doesn't want to spend time with you.
It's all a huge lie.
Jesus said that He will never reject anyone who comes to Him (John 6:37). His arms are always open and waiting to receive anyone just as they are.
The solution?
As you come to the Lord in prayer, ask Him to uproot anything that has not been planted by the Father (Matthew 15:13). Then, ask Him to show you the truth of His love and goodness towards you.


How To Seek God With Your Whole Heart
Jeremiah 29:13 says "You will seek me and find me, when you seek me with all your heart."
How exactly do you do that?
The truth is, there are no exact steps to build a relationship with God.
Everyone's time with God is different because everyone will have a different relationship with Jesus.
However…
There is one thing that God requires from everyone who wants to know Him:
An Honest Heart
Did you know that you can pray every day and it won't make a difference if your heart doesn't really mean it?
Believe me, I've tried.


God is looking at your heart more than anything because that is where your true character, motives, thoughts, and feelings are hidden.
In other words… The real you.
To God, your heart speaks louder than words.
Jesus said:
"These people honor me with their lips but their hearts are far from me." (Matthew 15:8)
And…
"For the Lord sees not as man sees: man looks on the outward appearance, but the Lord looks on the heart." (1 Samuel 16:7)
There is nothing hidden from God. He already knows what you're thinking and what's on your heart before you even come to Him.
Open the door of your heart to Him and He will enter and dine with you (Revelation 3:20)
Your willingness to be open, transparent, and vulnerable before God is what will separate a real relationship with God from a religious routine.
Which brings us to our next point…

Following a set of rules, routines, and things to do is simply not enough to keep us going. There's got to be a deeper meaning behind why you do what you do.
Something or someone that your heart burns for.
What can be more worthy than God Himself?
Think about this:
Jesus' first commandment was to love God.
When you love someone, you don't just spend time with them with the goal of getting something out of them.
You do it because you enjoy talking to them, you enjoy looking at them, and you enjoy simply being with them – even if you are both just sitting in silence.
(This is why God wants to spend time with you too because He loves you)
Your time praying in the secret place shouldn't be about getting something from God, it should be to enjoy Him and love Him for who He is above all else.

It's about coming to God for Him alone and setting everything else aside.
Everything else will flow out of that one desire because this is what connects you to the heart of God.
When you are connected to God's heart, His desires become your desires.
When you have His desires, you will never have a problem with interceding for the lost or digging deep into his word.
It will be a natural thing to do.
Jesus wants to be your friend
Many times, I come to God as I would if I was coming to see my best friend.
I might start by telling him all about my day: What I liked about it and what I thought was interesting.

Then I might ask him a question about something that pertains to what I'm talking about and I wait for an answer. Other times I will just gaze upon his beauty and adore Him for who He is.
It's always something different.
The point is this:
Jesus said: "No longer do I call you servants, for the servant does not know what his master is doing; but I have called you friends, for all that I have heard from my Father I have made known to you." – John 15:15
Just like a best friend, Jesus wants to tell you His secrets and share His heart with you.
God wants to be your friend. He would much rather spend time with the real you, than just some polished, robotic sounding version of you.
I know it may seem a little strange to come to God like this, but consider this:
Jesus said that the kingdom of God belongs to the children, and guess what?
That's us.


Think about how a child comes to a good father:
He is always happy to see his dad, no matter what the situation is.
If he falls down, He comes running to the father. When He comes home from school, He's excited to tell him all about his day.
His dad is his hero and his best friend.
How much more is God to us?
Just like a good Father, God is waiting for you with His arms open at all times. He is longing for you to come to Him and be with Him as you are.
The choice to seek Him is yours. What will you decide?

How Do I Get Started Seeking God?
With all of this information, you might be wondering:
Where do I start?
When you first start spending time with the Lord it might feel a little awkward at first.
That's okay.
That's how many beautiful relationships start.
You might not know what to do or what to say, so start with this:
Ask God to show you how He wants to spend this time with you.
Or
"Lord, show me what it means to seek you."
Then just rest. Wait on Him to show you.
Often times the Holy Spirit will put a desire on your heart, show you something in a vision, or speak something to you.
(If you haven't yet read our Ultimate Guide on hearing God's voice, I would highly recommend it.)


3 Super Helpful Tips For Your Secret Place
Find a quiet place to be with the Lord (If possible)
It can be very difficult to give God your fullest attention when there are other things in the background that are constantly distracting you.
That's why I would highly recommend that you find a quiet place to be with God alone.
If you are not able to find a quiet place, get some noise-canceling headphones and turn on some worship/soaking music.
Get rid of all other distractions
When you are preparing to spend time with the Lord, remove anything that distracts you.
I used to have a bunch of pictures on the wall in my room until I realized that sometimes I would get distracted when I noticed something different about them. (I took them off eventually)
Most of the time, however, it's our phone that goes off every 10 seconds.
Either put in on airplane mode, do not disturb, or take it to another room.
Don't let your phone take away your precious time with God.


Relationships take time
Just like it takes time to know a person, it is the same with God.
Don't expect it all to happen right away.
Continue to seek God day by day and He will begin to open his heart to you. Over time you will develop a deep relationship with God that will become the most precious thing in your life.
Don't give up if you don't feel His presence on the first day (or even a week later).
Hebrews 11:6 says that God is a rewarder of those who diligently seek Him.
If you continue on this journey of knowing Christ, He will show you his glory in such a way that nothing else will ever be able to satisfy you the same again.
Now I want to hear from you…
How has your time in the secret place with God transformed your life?
Let me know in the comments below!