Have you ever felt like God was trying to tell you something?
Or maybe the Lord has been speaking to you already, but you aren't sure if it's Him.

If you're looking to hear and discern God's voice with confidence, you'll love this ultimate guide on hearing God's voice
In this guide, I'm going to show you exactly:

What the Bible says about hearing the voice of the Lord (scripture)
How to discern God's voice from 1 ) your voice and 2 ) the voice of the Enemy
Some ways that God speaks
How to confirm that you are indeed hearing the voice of God
A step-by-step activity to help you get started on hearing the Lord's voice
Let's get started!
Table of Contents
3. How To Discern God's Voice From The Voice of the enemy
4. How To Know God's Voice From Your Own
Chapter 1: The Basics
Who is eligible to hear from God?

The truth is… God speaks to all of his children.

Just look at what Jesus said:

"My sheep hear my voice, and I know them, and they follow me." (John 10:27)

And…
"The sheep hear his voice, and he calls his own sheep by name and leads them out. When he has brought out all his own, he goes before them, and the sheep follow him, for they know his voice." (John 10:3-4).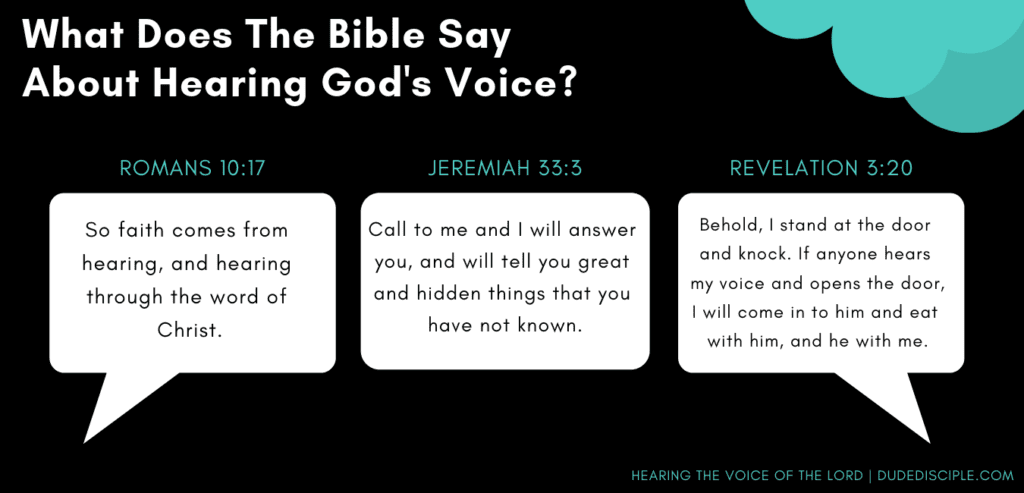 If you've accepted Jesus Christ into your heart, you are His child (John 1:12). Which means He wants to speak to you personally!

But here's the kicker:
Even though God wants to speak to us, we are not always listening.

I remember the first time the Lord spoke to me through a prophet. He said that "your mind hears my voice but your heart does not accept it."

How can that be possible?

I heard God's voice, but my heart was always doubting that it was Him. Since I never thought that God wanted to speak to me directly, I shut out the possibility of ever hearing from Him.

Therefore, even though He was speaking, I was not listening.

How To Hear From God Directly
All that it takes to hear the voice of the Lord in your life is simple, childlike faith to believe that you have a good father who wants to speak to you. It can be as easy as asking God a question and listening to what he says.

You don't have to be some big preacher, prophet, or evangelist to hear from Him.

We are all equally His children!
What does the Lord's voice sound like?

Sometimes when we think of listening to the voice of God, we think it is just about waiting until you hear the audible and thundering voice of God.

Like in John 12 When God speaks to the crowd about his beloved son:
"The crowd that was there and heard it, said that it had thundered"

But in most cases, it's not like that.

God speaks in different ways and some of the ways He speaks doesn't involve any words at all.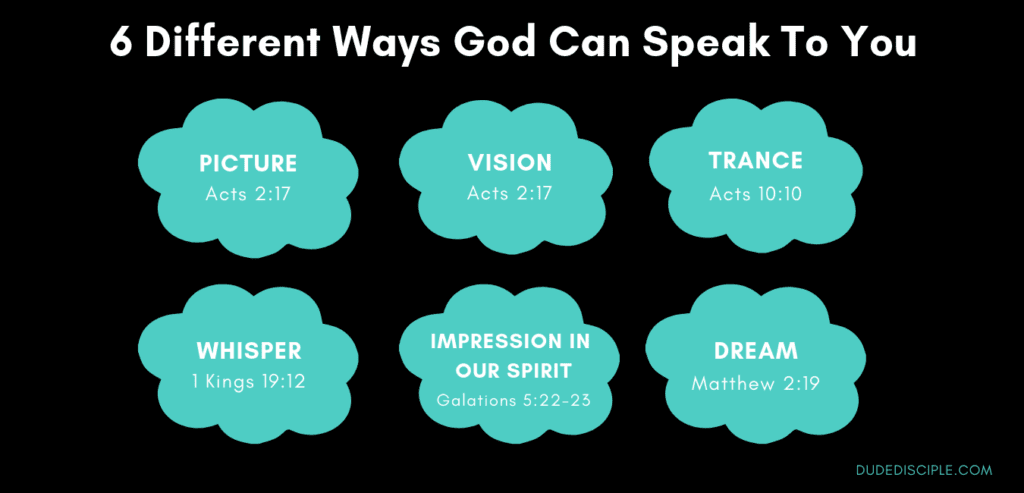 Here are some of the ways God can speak to you:

Pictures – Sometimes God will speak through a still picture. When I did the step by step exercise on hearing the Lord's voice (which we will go through later) with my teen's class, we asked God how much He loved us. Multiple students said that they had seen a single picture of the cross; How Beautiful!

Visions – A vision is simply just a moving picture or scene being played out in your mind.

Trance – A trance is like an open vision where your mind is unaware of your surroundings. Acts 10:10 talks about Peter being in a trance.

Dreams – Simply, a vision in the night, where God can speak to you or show you something while you sleep.

Still small voice / Whispers – In 1 Kings 19:12, The Bible talks about the Lord speaking to Elijah through a gentle whisper or a still small voice. This can be in the form of a small voice in your mind.

Impressions in our spirit – An impression in the spirit is like a tug on your heart or a deep sense of knowing in your spirit. It feels as if the Lord is speaking something directly to our inner man.



3 Ways To Confirm The Voice of God
1. The Bible
If God truly is speaking to you, He will never contradict Himself. One of the best ways to confirm whether what you've heard is really from the Lord is to compare it to what the Bible says.

For Example:

The Lord will never ask you to lie, steal, or sin in any way, no matter what the circumstances look like.
I know what you might be thinking…

What about an answer to a question that is more neutral? Something like:

"Yes, you should take that job offer."

How can you confirm that?

That brings us to #2

2. The Fruit of the Spirit
When the Holy Spirit is in a place, a moment in time, or voice, the fruit of His Spirit will be there:

Love, joy, peace, patience, gentleness, kindness, goodness, faithfulness, and self-control. (Galatians 5:22-23)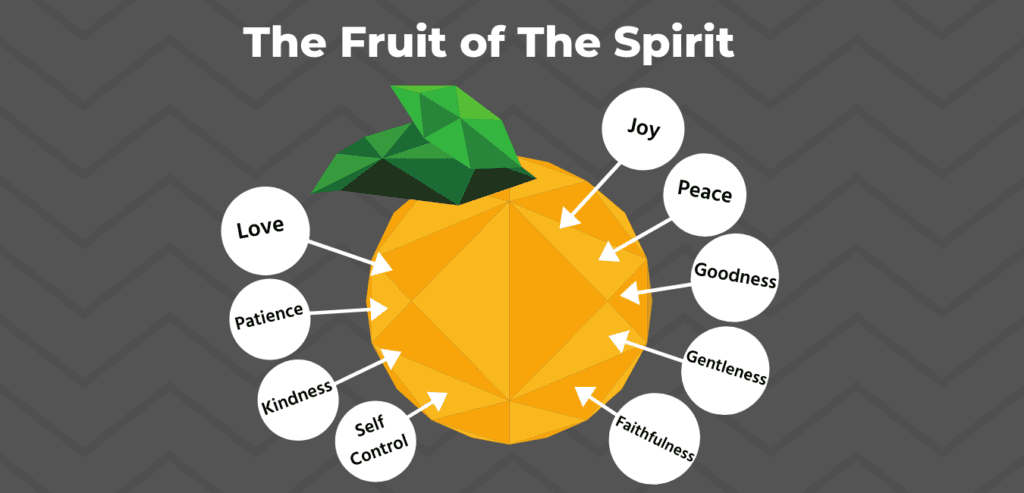 When God speaks, He will often confirm the word or vision by coating it with the Fruit of the Spirit.
As you hear or discern an answer or an impression in your thought life, does it bring a deeper awareness of Peace with it? Do you sense His love or His gentleness as He speaks?

The way you feel inside when you hear the Lord's voice can be one of the best indicators of whether it really is God or not.
It is His peace that passes all understanding which guards our heart and mind while leading us at the same time.
3. Motives
Jesus said "Every kingdom divided against itself is brought to desolation, and every city or house divided against itself will not stand – Matthew 12:25

if Jesus is being released through that action, the Enemy is not doing that.

Which means, The Enemy will never ask you to pray for someone, share the gospel, tell someone your testimony, or any other thing that will move God's kingdom on earth forward.

Many times, I know God is speaking to me by examining the motive behind a thought.
If there is a prompting in your inner man to step out in one of those areas, it is almost always the voice of the Lord.

I always know that God is speaking to me when my mind is focused on something completely different, and out of nowhere, a thought comes to release or manifest Jesus in a particular moment.

For example:

Let's say I'm going about my normal day and I enter a coffee shop thinking about what latte I want. As I look the other way, I spot someone in the corner. Then I get a thought that says, go talk to this person and share the gospel with them.
In this case, I can be confident that it is the Holy Spirit speaking to me.
Why?
Because the fruit of that action is His Kingdom being released, and a kingdom divided against itself cannot stand. It is His Kingdom expanding, and His voice which is causing that action to happen.

How To Discern God's Voice From The Devil's

Jesus said the thief has come to steal, kill, and destroy. Whenever you get a voice or a thought that is stealing your peace or attacking the promises of God for you as God's child, you can know that it is the Enemy.

This voice is usually a voice of condemnation, fear, self-hate, shame, doubt, jealousy, envy, hatred, etc.

It often sounds like this:

"You're a pathetic loser."
"You will never be as good as that guy."
"You're never going to amount to anything."
"God is not going to speak with you. He doesn't even like you anymore. Remember that sin from 2 days ago?"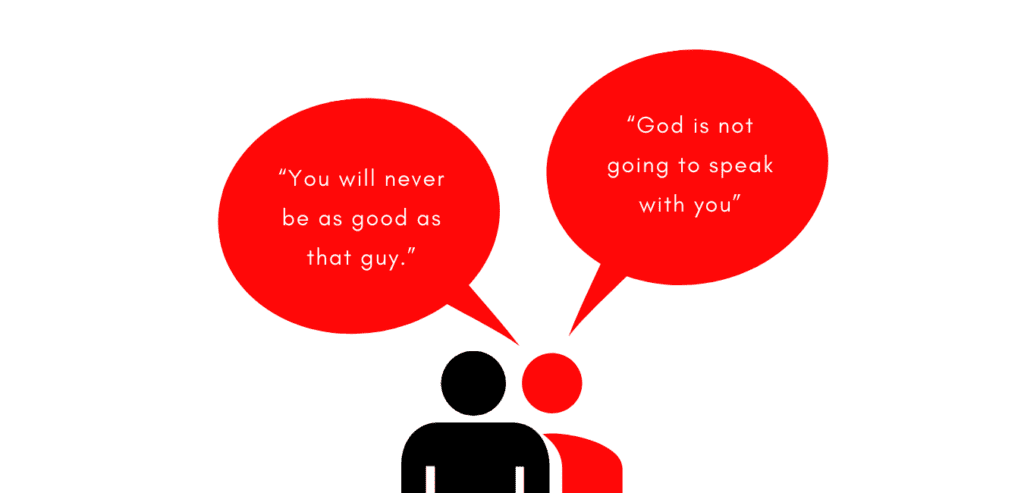 When the voice of the Enemy comes up in your thought life, you don't want to meditate on that – you want to counterattack it with the promises of God.

For Example:

The Enemy: "Remember that sin from 2 days ago?"

You: "God thank you that there is no condemnation for those who are in Christ Jesus according to Romans 8:1". Thank you that as your child I can come boldly before your throne in a time of need according to Hebrews 4:16.


How to Discern God's Voice From Your Own Voice
The best way to discern God's voice from your own is to practice stepping out and acting on his voice when you think it's Him. As you take those steps of faith, He helps you sort out and recognize his voice through a process of learning.
For example:
A banker who spends most of his day touching real money is much more likely to know when a fake bill gets passed to him versus someone who doesn't handle money very often.


Now:
The more time you spend in the secret place with your attention on God, the more you will begin to hear His voice in the regular rhythms of your day.

Eventually, His voice will call you to step out and take a risk by acting on what He says.

It is in these moments that you will begin to learn to discern his voice as you step out and see Him move.

The truth is, you will get it wrong sometimes.

That's okay.

Every child first colors outside the lines, before they learn to color more perfectly within the lines.

The Lord will often start you out by asking you to do things that are very low risk anyways.

For example:

Let say you hear a voice ask you to tell someone that Jesus loves them at Walmart.
Even if you're wrong and it wasn't the Lord, you would still be okay.

But think about this for a moment:
What if you did step out and tell that person that Jesus loves them and the person breaks down crying because they really needed to hear that.

Wouldn't that be a pretty good indicator that this was indeed God's voice?

You bet.

For me, it started like this:

At first, I was only able to know for sure when God was speaking to me about 20% of the time I had a thought come up in my thought life.

Sometimes I took the risk, and made a decision to act on what I heard using a confirmation – even when I was not completely sure if it was Him.

Based on the result of that action, I would know if it really was God.

If the result came out to be either good, or manifested Jesus in some way – I knew it really was God who spoke to me.

After hundreds of times of hearing and trying, I begin to recognize a pattern.

When it really was Him, I recognized that He spoke to me with a certain tone of gentleness or peace that was a little different than the times that I spoke to myself in my mind.

So I took what I knew was Him, and begin to act on that.


I dialed in more to the precise frequency of His voice.

Pretty soon, I was able to recognize His voice more easily and it became a constant thing. Just like recognizing your best friend's voice in a crowd of people.

The first time you met your best friend, you would not have recognized his voice if he called you on the phone the next day. But after one year of friendship, you would recognize the slightest whisper of your friend's voice in a crowded room.

It is the same process of learning to discern God's voice.
Step By Step Exercise On Hearing God's Voice
With all this information, you may be wondering…

How can I get started on hearing the lord's voice? Is there something practical I can try right now?

Yes, there is!

In this section, we're going to go through a step by step exercise on hearing God's voice using the Bible.

In fact, I've used this same exercise with a bunch of teens from church who said they heard God speak to them through pictures, visions, and His still small voice during this exercise.
The best part?
It's really easy and takes only a few minutes to try!

What you will need
A pen and paper to write down anything that God might speak to you
Preferably, a quiet place
Simple, childlike faith

How it works

We're going to read a few verses from Scripture. At the end of each verse, we're going to ask God to make each verse specific to us and to speak to us through his Word.

Then, we just listen.

Simple right?

Let's get started.

But first…

Before I do this exercise with people, I like to start with a simple prayer to hear God's voice (feel free to join).

It goes something like this:

"Jesus thank you that You live inside each and every one of us. You say in John 10:27 that "My sheep hear My voice", and if we are Your sheep we can hear Your voice. Thank you, Lord that Your voice drew us into a relationship with You and told us that we needed You. It was Your Voice that drew us into Your Kingdom and Family. I just ask that You would make us aware of Your voice and help us to hear Your voice clearly, God"

In Jesus name, Amen ☺️
Step 1: Read Psalm 23:1 out loud

The LORD is my shepherd; I shall not want

Jesus is the good Shepherd, which means that He is always watching over you, even when you're not aware of it.

So with that in mind, I want you to ask the Father, the Son, or the Holy Spirit a question. This can be either in your mind or you can whisper it to Him.

Step 2: Ask The Lord This Question:
"How have you been protecting me this year that I have not been aware of?"

As I ask this question, I like to just close my eyes and focus on the Lord.

Step 3: Just rest for about 20-30 seconds

If you wanna hear someone's voice in a conversation, you ask them a question, rest, and allow them to answer. Don't speak or pray for now, just listen.

Step 4: Evaluate
Did you hear or feel Him say something to you?
Did you see a picture or vision of something?
How did that make you feel inside?

Side note: He doesn't just speak something to our minds but also imparts something into our hearts. The voice imparts peace, joy, hope, etc. into us. That is the fruit so often of His voice.

Not hearing God? That's ok! Don't give up. You can either ask him the question again or continue on to the next one.

We're going to go through the next few verses just as before.

Read Psalm 23:2 out loud

He makes me lie down in green pastures. He leads me beside still waters

Question 2: Holy Spirit what is one area that you have been showing me your love that I am not even aware of… Would you highlight an area in which you have been pursuing me that I am not even aware of?

Rest for 20-30 seconds
Read Psalm 23:3
He restores my soul. He leads me in paths of righteousness for his name's sake.

Question 3: Holy Spirit, How have I been growing in righteousness this year, in what areas of my life have you been establishing right living and holiness in me?

Read Psalm 23:4
Even though I walk through the valley of the shadow of death, I will fear no evil, for you are with me; your rod and your staff, they comfort me.

Question 4: Jesus, What is one fear which I regularly have that you want me to lay down at your feet now?

If you want to keep going, you can ask God some more questions such as:

• Jesus, How much do you love me?
• What do you love most about me?
• Who is one person that you are calling me to encourage throughout my day or in church?
• Would you show me who they are?
• How should I encourage them?


Side Notes & Common Questions

Before you begin to practice this, ask the Holy Spirit to help you hear His voice more clearly and to teach you to discern it. Make this a regular prayer of yours. It is only with His help that you will begin to discern His voice with greater accuracy.

Know this:

Like in any new thing you learn, you will make mistakes. In many situations, you will still not know for sure if it's Him or not.

That's okay!

A good father never gets angry at his child when they fall down as they learn to walk because He knows it's part of the learning process.

He is patient with you and He will teach you, as long as you ask for His help. Keep your attention on Him and don't give up.

Disclaimer:

Please, use common sense and confirmations when you begin to try this. The Lord will never tell you to sin, harm anyone, etc. Dude Disciple is not responsible for anything you try or act on from this post.

"That's just my voice, I'm hearing something, but it's my voice."

There's one voice that responds to your question and another voice that comes right after that and says that's just you.

Remember what Jesus said:
"The thief comes only to steal and kill and destroy" – John 10:10

I believe the first voice, almost always, is the Lord's voice answering you. The second voice comes to steal that away or its a voice of condemnation: "you're not qualified to do that, only pastors can do that" or "you're not in right standing with God because you sinned 2 days ago."
The Enemy is always building up a legal case in your mind about why you are not saved, why you cannot access your Father's Presence or come into greater intimacy with Jesus.
Why? Because it is in the Presence of God and through the Word of God that we are transformed.

I have learned that the first voice which answers, after I ask a question directed at Jesus, is almost always the Lord's voice answering me. And it often is calling me to step out in faith in some way to release Jesus.

He doesn't just speak something to our minds but almost always imparts something into our hearts. His words, or His reply, are often coated with an aspect of His Spirit.
Conclusion
Now I'd like to hear from you:
What did you guys get for the first question?
Did you sense a fruit of the Spirit as the Lord answered you?
What helped you the most from this post?
Let me know by leaving a quick comment below right now.