Romans 12:2 says "Do not be conformed to this world, but be transformed by the renewing of your mind, so that you may prove what the will of God is, that which is good and acceptable and perfect"

What exactly does that mean and how do you go about renewing your mind?

In this post, I'll show you how to renew your mind with the word of God through 2 easy-to-apply methods that have helped me change the way I think.
Let's dive in!

The Importance of Renewing Your Mind
The Bible calls us to renew our minds by changing the thought patterns and beliefs within our minds.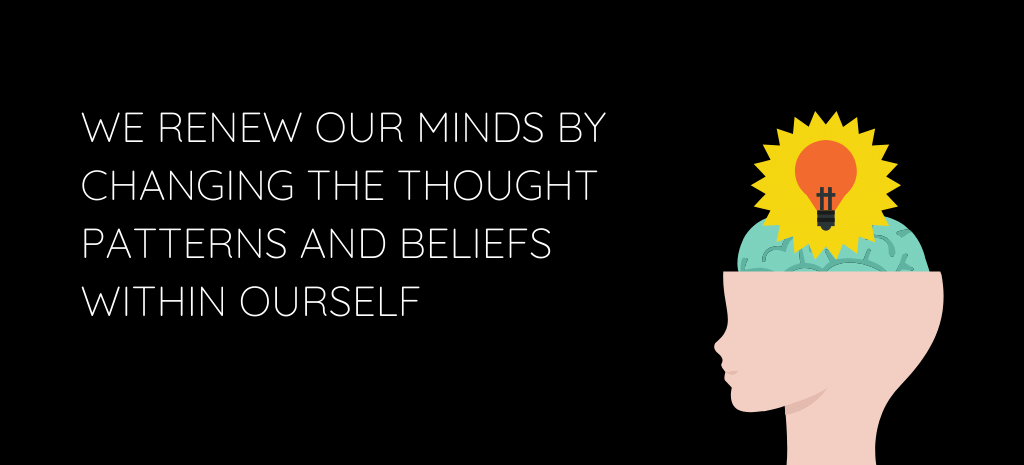 Why is this so important?

Simply put, it's so that: "you may prove what the will of God is, which is good and acceptable and perfect"

This is only possible through a renewed mind.

Did you know that doubt is a result of an unrenewed mind?

Often times, God is hindered when the mind of a believer is full of doubt and fear, resulting in 'double-mindedness'.

Many plans that God wants to do through His church are placed on hold as He waits for us to renew our minds.
Until this happens, the gift within us (the Holy Spirit) will never come to full fruit and operational potential.

With that in mind, we can see the importance and significance of this calling on every born-again believer's life. This calling is of great significance because from its realization and application the spirit of God will be enabled to accomplish the will of God here on earth.

2 Practical Steps To Renewing Your Mind
You might be thinking, that's great, but how can I apply this in my life?

The answer is simple, but it's going to be a challenge to maintain the application of it.

You are renewed in mind and transformed into the image of Christ through meditation and application of the word.

Renewing your mind with the word of god
First, let's talk about how to meditate on God's word to renew your mind and apply it to your life.

Step 1: Remove distractions

Practically, meditation on the scriptures requires a commitment in the form of dedicated time.

I myself sometimes just need to get away from everything so that there would be no distractions. I would either go somewhere quiet and without people, or close the door to my room and hang a "devotions in progress" sign on the handle.

This way my family knows that right now is personal time between me and the lord.

In short, it's best if you can find somewhere private so that there will be no distractions. I will also mention that I either leave my phone outside of my room or turn on airplane mode to not be distracted by it as well

Step 2: Meditate on Scripture

Now, once you are away from distractions and your mind is set on dedicating this time to God, start reading the word.

The goal here isn't to just read a number of chapters. You want to read slowly to take in the meaning of the words beyond the surface level.

If something grabs your attention as interesting, dwell on it and think about it. This is the practice of biblical meditation.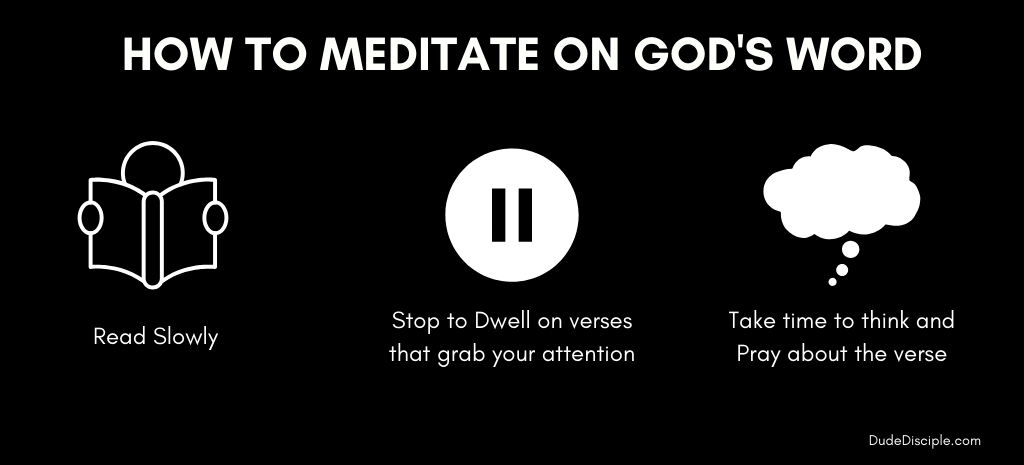 Once the verse you were thinking about has been fully consumed, move on to the next verse.

Ponder, meditate, take in, pray it in, then move on to the next verse.

If your reading a promise of God, such as one in Isaiah 53:5, the first thing you want to do is receive it. Then, Ask the Holy Spirit to help you believe it and show you how to apply it to your life.

Step 3: Apply the word to your life

James 1:22 says "But prove yourselves doers of the word, and not merely hearers who delude themselves."

The next step is to begin to apply the word into your life. Do not merely take in the truth, but allow it to take hold of your life by acting on it.

For example:

If you are worried about your future career, and you are anxious about how things will turn out in your life, Meditate on the verses that applies to that.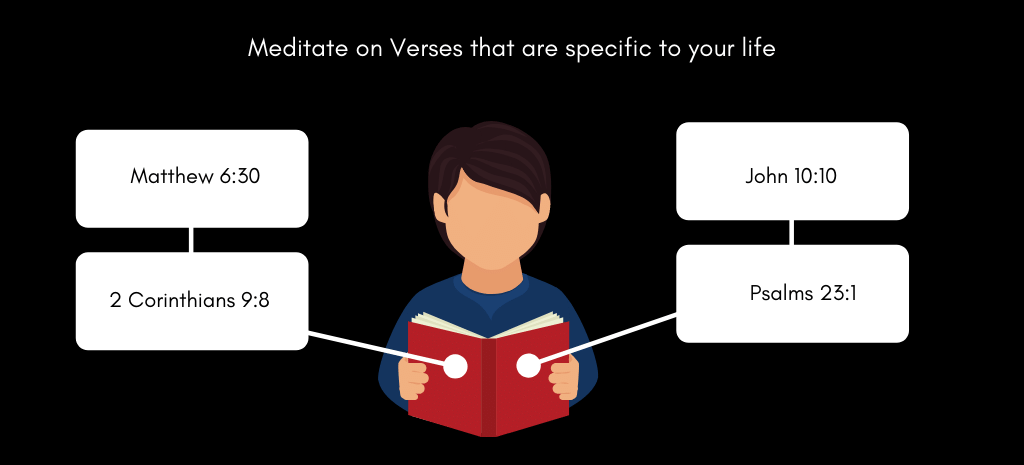 Like Matthew 6:30:

"But if God so clothes the grass of the field, which is alive today and tomorrow is thrown into the furnace, will he not much more clothe you — you of little faith?"

As you bring this anxiety before God, Come to Him with this verse in mind and pray. If I was facing anxiety and fear for the future of how things will turn out, I would pray like this:

"Father, I thank you that you watch over me. I thank you that you will take care of me and provide for me and clothe me. As your word says. I thank you that I can trust you, and rely on you. I surrender this worry to you.

This is how I would apply that scripture in my own life.

Now whenever that fear or anxiety would try to surface in my mind, it would not consume me and bring about worry.

Instead, the truth of God's word (Matthew 6:30) would quickly come to mind and I would "defeat" that doubt with the word of God. And as time goes on, my mind will stop thinking along with the thought patterns of doubt and fear and instead, fully trust and believe what the word of God says, resulting in a life of peace through trust in God.

How To Renew Your Mind By Declaring Scripture
Another important way that we are called to renew our minds is by declaring the word.

This is a practice that is rooted in Philemon 1:6 which says, "that the sharing of your faith may become effective by the acknowledgment of every good thing which is in you in Christ Jesus."

Here's what I mean:

Declaring the word is loudly speaking the word over yourself and speaking the truth of God's word into your life. When you say it like you mean it, you will notice the spirit stirring up within you.

For example:

2 Corinthians 5:17 says, "Therefore if anyone is in Christ, he is a new creature; the old things passed away; behold, new things have come."

You can transform this verse into a declaration like this: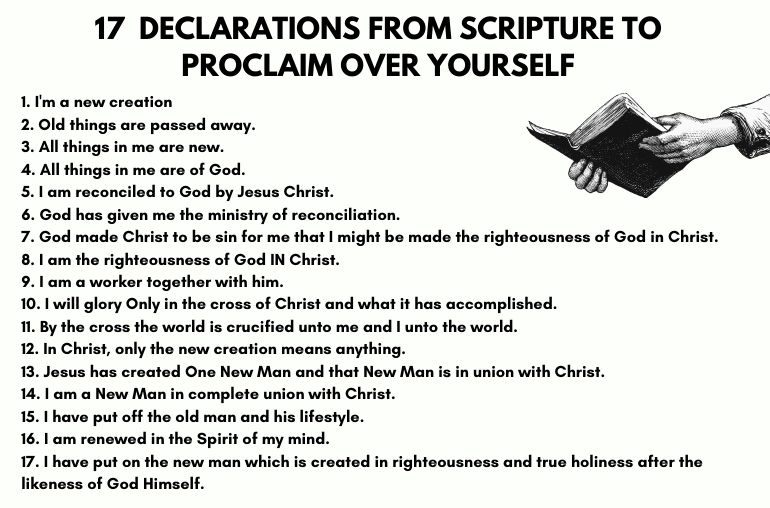 Whenever I'm driving or outside, I begin to speak these declarations over myself with a good strong voice. I don't shout them at the top of my lungs, (although you can) but I also don't say it quietly with a mellow tone either.

Here's how I apply these declarations practically throughout my day:

I Start by declaring the word for 5 to 10+ minutes.
Then I pray in tongues to solidify the word and build myself up (1 Cor 14:4)
Next, I meditate and think about the words I spoke earlier.
Repeat it all over again
Your order can be different. This is not supposed to become a formula, but a guideline.

I strongly recommend watching John G Lake ministries "new man" seminar series. The information goes in much more depth than I do here.

The effect of declaring the word in this way for an extended period of time is extraordinary.

It is exactly the same as when a preacher speaks the true word on stage until he or she comes "under the anointing" as some would say (this is not true by the way, that preacher is not any more anointed than you are).

What is actually happening is that the spirit within that preacher is stirred up by the preaching of the word or the declaration of the word.

Great things happen when the spirit of God is given control in such a way!
Each born again believer can with time and practice, do the same thing. From that place in the spirit the true prophetic flows, physical and internal healing is gifted to others, the kingdom of God comes, and the will of God is done.

It all comes down to the renewal of the mind, Which results in single-mindedness, and faith.

If our minds were renewed to just these 17 declarations, The life we would live with Christ would look radically different.

It is an exciting thing to realize that you can come into all the riches in christ simply by committing to renewing your mind. Because in truth, your unrenewed mind is all that is keeping the spirit of Christ from doing what He always wants to do.

Remember what I said earlier, the application of this is much more difficult to maintain than it is to learn. But if you have the grit, you will accomplish God's will for your life.

You will see God's kingdom come and His will be done here on earth as it is in heaven.

By the reading, declaration, meditation, and application of the word of God, you can renew your mind like never before.